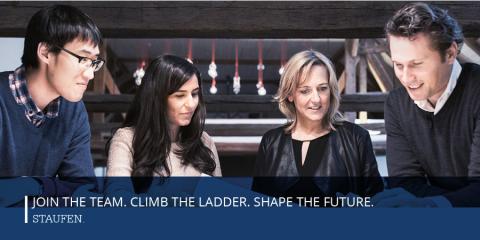 Inside every company is an even better one. This is the conviction which Staufen has applied in consulting and training companies and employees around the world. Markets are in motion and competitive pressure is massive. Staufen helps clients implement the appropriate changes quickly, increase productivity, improve quality and optimize innovative strength.

International Lean Management Consulting provides the right strategies and methods to create rapid and measurable successes. To leverage the potential that exists in every company, Staufen's consultants work with managers and employees to achieve a dynamic and sustainable culture of change. The Staufen subsidiary Staufen Digital Neonex assists mid-sized manufacturing companies along their path towards digital transformation. The Staufen Academy also offers certified hands-on training programs.


Staufen has over 280 employees who serve clients all over the world. In 2018, Staufen won the award for Best Consultant for the fourth time in a row. According to the industry study Hidden Champions 2018, the company was named Germany's best Lean management consultant.
In China Staufen has it's greatest subsidiary with 40 employees in Shanghai, Shenyang as well as Hong Kong.

www.staufen.ag/karriere
300 projects a year
56 million € revenues
280 employees
13 locations worldwide
14 languages
Look up for more information:
http://www.staufen.ag
Shanghai
STAUFEN.SHANGHAI
Consulting Academy Ltd.,
22H Cross Region Plaza
899 Ling Ling Road
CN 200030 Shanghai

Phone: +86 21 644171 -12

Shenyang
STAUFEN.SHANGHAI
Consulting Academy Ltd.,
Shenyang Branch
Room 402, No.36 Huahai Road
Economic and Technical District
CN 110141 Shenyang

Phone: +86 24 31 97 71 18

Hong Kong
STAUFEN.ASIA
15/F OTB Building
160 Gloucester Road
Hong Kong

Phone: +852 2345 7555

www.staufen.cn
shanghai@staufen.cn
In den ersten Jahren sind Sie Consultant oder Associate im Staufen Headquarter in Deutschland, eingebunden in eine 40-50-köpfige Business Unit. Dort sammeln Sie Projekterfahrung in den verschiedenen Branchen unserer Kunden, vernetzen sich mit Ihren Staufen-Kollegen/innen über alle Hierarchiestufen hinweg und lernen alle Strukturen unseres Unternehmens kennen.
Mit diesem Erfahrungswissen wechseln Sie nach ca 2-3 Jahren in eine unserer chinesischen Niederlassungen mit einem lokalen Anstellungsverhältnis. Dafür bereiten wir Sie in Deutschland professionell vor und begleiten Ihren Übergang vom deutschen Headquarter in die chinesische Niederlassung.
Perfektionierung von Unternehmensfunktionen
Lean Leadership
Lean Sales
Lean Innovation + Development
Lean Production + Logistics
Lean Purchasing
Lean Administration
Quality Excellence
Performance Improvement
Entwicklung zu Lean Enterprise

STAUFEN.AG
Blumenstraße 5
73257 Köngen Germany

Job offers
by this company