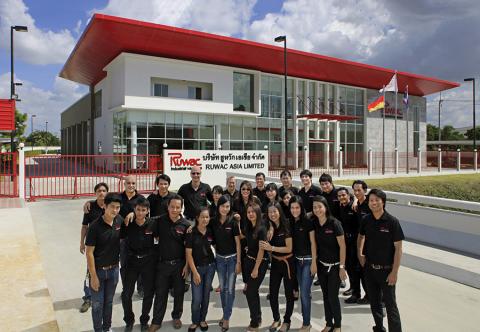 BETTER THAN THE REST, RIGHT FROM THE START !
When Siegfried Wagner and Manfred Runge established Ruwac in 1976, they were in complete agreement about their objective: to produce the best industrial vacuum cleaners in the world.
Today RUWAC not only is the leading producer of industrial vacuums in the world but offers solutions for almost any dust collection task.
RUWAC worldwide
The organization consists of three regional centers
Europe: Ruwac GmbH, Melle / Germany
USA and South America: Ruwac USA, Holyoke / United States
Asia / Pacific Region: Ruwac Asia Ltd Chonburi / Thailand
RUWAC Asia Group was established in 2009 with its own sales and service offices so far set up in Thailand, Singapore, Malaysia and China.
Let's develop the future together !
We are looking for talented and motivated members to expand our organisation in China !
Our solutions and products are in high demand in China. We are the market leader in Germany thus most German manufacturers in China already are our customers.
We provide very specialised know how and training to our local staff and build them up to become experts in our field. Whether you are looking for a position in sales, marketing or technical support - the opportunities to grow together with our group are manifold.
The RUWAC worldwide organisation with manufacturing plants in Germany, USA and Thailand had a combined turnover of Euro 40,000,000 in 2017. The Sales turnover increases in average by 15 % each year.

Ruwac Asia Group is wholy owned by the the Ruwac Germany owner Runge family members and the founder of Ruwac Asia Group Mr Jens Huhn.

All RUWAC brand solutions are assembled and manufactured in our state of the art production plant in Chonburi, Thailand, using only highest quality components supplied by Ruwac Germany and certified local vendors.

Solution consultancy, sales and after sales service is done by our own wholy owned sales companies in Thailand, China, Malaysia and Singapore.

Ruwac China was established in 2010 and today employs 7 full time employees in administration, marketing, sales and service.

We deliver and install our machines directly to the endcustomers. Our scope includes detailed solution consultancy, operator training and service contracts.

The RUWAC quality and reputation for long lasting performance as well low operation costs is well received in China.
Su Zhou, Jiang Su province, China
www.ruwac-asia.com
Contact : linda@ruwac-asia.com
RUWAC Industrial Vacuums and Dust Extractors
RUWAC Vacuum Trucks
PUTZMAUS boiler cleaning tool



RUWAC Asia Group
No.225 Suhong road,Suzhou industry park, Jiangsu p
215028 Suzhou

Job offers
by this company