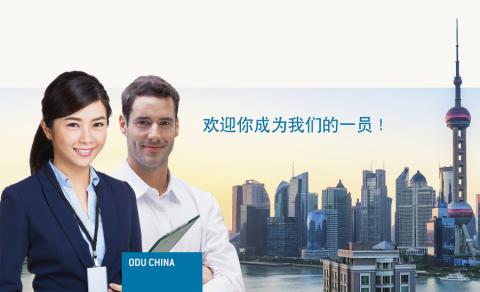 The ODU Company Group: Global representation with perfect connections

ODU is one of the world's leading connector systems suppliers and employs about 2.500 people around the world. Aside from the company headquarters at Mühldorf am Inn, the ODU Group has also an international production and distribution network in Europe, Mexico, North America and Asia.

ODU combines all relevant areas of competence and key technologies relating to design and development, machine tool and special machine construction, injection, stamping, turning, surface technology, assembly and cable assembly.

The ODU group sells its products around the world and has an international distribution network. This includes nine sales companies in United Kingdom, France, Sweden, Denmark, Italy, Japan, the USA, Mexico and China, as well as numerous worldwide sales partners.

Connections from ODU ensure reliable transmission of power, signals, data and media in numerous demanding application areas: in future-oriented growth markets such as medical technology, military and security technology, and energy, as well as in established sectors such as industrial electronics, measurement and testing, and emobility.
Sales Volume 2017
• 170 Mio. €
Employees
• at the headquarter in Mühldorf about 950 employees
• worldwide 1.900 employees
Managing Directors
• Dr.-Ing. Kurt Woelfl
• Denis Giba
Production Sites
• Mühldorf am Inn, Germany
• Sibiu, Romania
• Shanghai, China
• Camarillo, USA
• Tijuana, Mexico
Sales
• Europe
• USA
• China
• Asia-Pacific
• Near and Middle East
• Russia
• South America
Application Areas
• Medical
• Industrial
• Measuring and Testing
• Military and Security
• Energy
• Emobility
Homepage
• www.odu.de
ODU (Shanghai) International Trading Co., Ltd.
Level3, Unit T15-3 No. 999 Ningqiao Road
Shanghai 201 206
People's Republic of China
Products
• Push-Pull Circular Connectors
• Heavy Duty Connectors
• Modular Connectors
• Connectors for Docking and Robot Systems
• PCB Connectors
• Electrical Contacts
• Cable Assembly
• Application- and Customer-Specific Solutions
Brands
• ODU MINI-SNAP
• ODU MEDI-SNAP, MINI-MED
• ODU-MAC
• ODU DOCK
• ODU MINI-FLAKAFIX, MINI-CARD
• ODU SPRINGTAC, TURNTAC, STAMPTAC, LAMTAC, Flatsocket



ODU GmbH & Co. KG
Pregelstrasse 11
84453 Mühldorf a. Inn