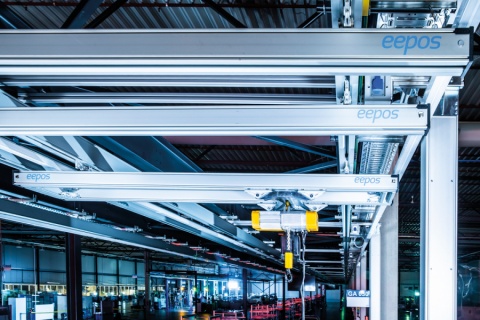 eepos GmbH is an owner-managed family business with its headquarters in Wiehl-Marienhagen (near Cologne) and is specialized in easy-running and easy-to-handle aluminium crane systems. The company was founded in 2006.
The idea of its founders was to promote the smooth running of transport systems where heavy loads of up to 2,000 kilograms have to be moved by hand or with motor support.
With the foundation of the subsidiary in Shanghai/China (in summer 2009) the upswing of the company had a cross-border effect. Further cooperations abroad have also been successfully concluded; the company currently has eleven branches worldwide. The permanent staff in Wiehl now includes around 89 energetic employees.
At present, eepos GmbH is a highly respected manufacturer, especially in the automotive industry. The individually manufactured systems offer customers optimal solutions for different requirements of material flow and warehousing.
eepos relies on the modular philosophy - this guarantees high flexibility and compatibility. The product portfolio includes overhead crane systems in 5 rail variants, hoists and handling equipment, slewing cranes and various components. Even exotic systems such as floor rail systems can be realized using the product variety. The range is rounded off by all other products and services required, such as steel gantries, lifting equipment, project support, assembly and UVV tests. The eepos aluminium profiles are manufactured by extrusion. The systems have been proven to be among the easiest to move crane systems currently available on the market.
In the field of design and development, eepos GmbH proves its strengths time again and again and continuously improves its product range. Another of the latest innovations is the development of an electrically balanced control system for the lifting axis and the media column. In a consortium, intelligent and collaborative drive systems are currently being developed for the automotive industry in order to continuously improve ergonomics at production workstations. Here eepos GmbH relies on synergy effects through cooperation with research centres and the University of Applied Sciences Cologne, Campus Gummersbach, as well as the Fraunhofer Institute in Berlin.
By consciously dealing with ecological issues that arise during production, transport, packaging and disposal, a sustainable contribution is made to society. The management of the company eepos GmbH attaches great importance to ensuring working conditions that are as free from hazards and as low in difficulty as possible. Ergonomics is an essential goal of our company policy. Ergonomics is not only applied to the product, but the human being, his complete working environment and the processes are in the foreground. The responsibility towards the employees, the customers, the environment and society determines the actions of our company.
eepos Shanghai ltd. is located in Songjiang district of Shanghai.
The branch has currently 27 employees.

eepos GmbH
Zum Scherbusch 1
51674 Wiehl

Job offers
by this company