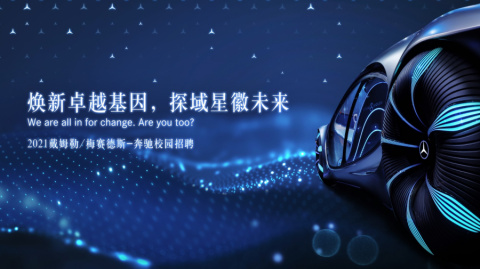 Daimler AG is one of the world's most successful automotive companies. With its divisions Mercedes-Benz Cars, Daimler Trucks, Mercedes-Benz Vans, Daimler Buses, and Daimler Financial Services, this vehicle manufacturer is one of the biggest providers of premium cars and the world's biggest manufacturer of commercial vehicles with a global reach.
We are looking for genuine and creative applicants who are passionate about their ideas and want to make a difference. A strong and open personality and international experience are also important to us. We are looking for people who are not afraid of pushing boundaries in order to find innovative solutions.
Group headquarters in Stuttgart, Germany

Facilities and business units worldwide
Revenue global:
€ 164.3 billion (2017)

Staff global:

289,000 worldwide (Dec 31, 2017)
Daimler Greater China Ltd.
Established in Beijing in 2001, Daimler Greater China Ltd. is responsible for the operations of Mercedes-Benz Cars, Mercedes-Benz Vans, Daimler Trucks and Buses, Daimler Financial Services, Daimler Spare Parts and R&D Centers in Mainland China, Hong Kong, Macau and Taiwan. With its products, customer-oriented services, continuous investments, and long-lasting alliances with strong local partners, Daimler Greater China steadily strives to prove its commitment to its Chinese customers.
Beijing Mercedes-Benz Sales Service Co., Ltd. (BMBS)
Beijing Mercedes-Benz Sales Service Co., Ltd. is a joint venture between Daimler AG and BAIC Motor that officially began operations in 2013. The company conducts sales & marketing, dealer network development, after-sales as well as used-car and fleet-car sales for the Mercedes-Benz, smart, AMG and Mercedes-MAYBACH brands in China. Under a single integrated strategy, BMBS will further reinforce Mercedes-Benz's business goals and increase its influence in the Chinese market, with a focus on quality and sustainable development. BMBS continues to make contributions to Chinese society through the Mercedes-Benz Star Fund, which focuses for example on environmental protection, education support and driving culture.
Beijing Benz Automotive Co., Ltd. (BBAC)
Established in 2005, Beijing Benz Automotive Co., Ltd. is a joint venture founded by Daimler AG, Daimler Greater China Ltd. and BAIC Motor. BBAC's plant is located in the Beijing Economic-Technological Development Area. The company produces the C-Class, E-Class, GLC SUV and GLA SUV vehicles, carrying the world's most famous brand, Mercedes-Benz.
Mercedes-Benz (China) Ltd. (MBCL)
Established in 2005, Mercedes-Benz (China) Ltd. is a joint venture wholesale company, which imports almost the entire Mercedes-Benz passenger car product line to Mainland China. For long-term and sustainable growth in China, Daimler has increased its share in the import company Mercedes-Benz China Ltd.
Fujian Benz Automotive Co., Ltd. (FBAC)
Established in 2007, Fujian Benz Automotive Co., Ltd. is a joint venture by Fujian Motor Industry Group Co., Ltd. (FJMG), Daimler Vans Hong Kong Limited (a joint venture with investment from Daimler AG Germany and China Motor Corporation Taiwan) and BAIC Motor Corporation Ltd., producing and offering the Mercedes-Benz V-Class, Vito, and Sprinter.
Mercedes-Benz Auto Finance Ltd. (MBAFC)
Mercedes-Benz Financial Services (MBFS) is one of the largest captive automotive financial service providers and has a strong global presence in 40 countries. As a pioneer in China's auto finance industry, Mercedes-Benz Auto Finance Ltd. was established in 2005. MBAFC is committed to be the first-choice financial services and mobility provider for both customers and dealers. The company provides tailored solutions including financing, leasing and insurance, covering all vehicles from Mercedes-Benz in China.
Mercedes-Benz Leasing Co., Ltd. (MBLC)
Established in 2012, Mercedes-Benz Leasing Co., Ltd. is the first premium automotive financial services brand to provide its own leasing solutions to both commercial and private customers in China. Using innovative marketing concepts and cutting-edge technology, MBLC was the market leader to introduce the all new Agility Lease into the Chinese market.
car2go China Co., Ltd. (car2go)
car2go is a mobility service offered by Daimler AG. It was the first car-sharing system in the world without fixed rental locations, pioneering a new segment: vehicles can be located and booked spontaneously via a smartphone app. Established in 2008, car2go has become the market leader worldwide, and in 2016, car2go started its first Asian location in Chongqing.
Daimler Trucks and Buses (China) Ltd. (DTBC)
Established in 2012, Daimler Trucks and Buses (China) Ltd. builds upon Mercedes-Benz Trucks' status as the long-standing leader in the premium import truck segment. The company's portfolio ranges from the world-renowned Actros that holds the Guinness World Record for lowest fuel consumption, to the Unimog, recognized as a "living legend". DTBC is also developing its bus business in China.
Beijing Foton Daimler Automotive Co., Ltd. (BFDA)
Established in 2011, Beijing Foton Daimler Automotive Co., Ltd. provides Daimler with access to the medium- and heavy-duty truck segment in the world's largest commercial vehicle market. BFDA produces Auman-branded medium-duty trucks. Mercedes-Benz OM457 heavy-duty engines are also locally produced at BFDA's production facilities in Huairou, Beijing.
Shenzhen DENZA New Energy Automotive Co., Ltd. (DENZA)
Established in 2011, Daimler's partnership with BYD was the first all-electric vehicle joint venture created in China. The partners joined hands with a clear mission: to develop the safest and most reliable electric vehicle - in China and for China. The dream of bringing the all-electric vehicle to China became reality with the first DENZA car delivered to customers in 2014. The DENZA dealer outlets cover major cities like Shenzhen, Shanghai, Beijing and others, as the network continues to expand.
Daimler Northeast Asia Parts Trading and Services Co., Ltd. (DPTS)
Established in 2008, Daimler Northeast Asia Parts Trading and Services Co., Ltd. is headquartered in Beijing. The company consolidates after-sales parts logistics for the entire Mercedes-Benz and smart product ranges, as well as DENZA product and service ranges, in China. DPTS has achieved the "Corporate AA" certification from the Chinese Customs Authority, the highest certification level that can be bestowed for import/export companies.
Mercedes-Benz Parts Manufacturing & Services Ltd. (MBPM)
Mercedes-Benz Parts Manufacturing & Services Ltd. was established in 2015 in the Shanghai Pudong New Area. MBPM will build up a new remanufacturing plant on self-invested land in Lingang, as well as develop a local remanufacturing supplier base.
Internship Opportunity
We offer 6-months internships. During this period you'll be expanding your knowledge within a solid team framework with clearly explained assignments and involvement in innovative areas.

If you are an enrolled student and you can pick things up quickly, are independent, highly motivated, reliable, and a team player, please visit our webpage to get further information.

Direct Entry
If you already know what you want to do, and want to put your expertise to use in the place where it's needed – in your specialist area, if corporate thinking, team spirit and communication are more than just words to you, we welcome you to Daimler. From the very start, you'll be involved in exciting projects where your work will make a difference. Working with a team of experts, you'll be continuously exchanging ideas in order to find the right solution for the task in hand.

If making use of your professional qualifications and practical experience, taking on more responsibility are what you aspire to, please consider enhancing your career prospects by moving to Daimler or joining us as an employee. With you we can shape the future of mobility together. Please visit our webpage for further information.
INspire - the Leaders' Lab
Our company is undergoing a noticeable transformation process. We are reorganizing ourselves for the future, and breaking new ground in terms of leadership culture with Leadership 2020. After ten successful years of CAReer – The Top Talent Program we start this year with a new program for future leaders'.
INspire – the Leaders' Lab will offer internationally trained graduates and young professionals with initial work and management experience a challenging environment for future-oriented development possibilities and tailor-made career paths.
Our divisions include Mercedes-Benz Cars, Daimler Trucks, Mercedes-Benz Vans, Daimler Buses and Daimler Financial Services.
Mercedes-Benz Cars offers the ideal automobile for every need: from the high-quality compact cars from smart, and the premium vehicles from Mercedes-Benz and Mercedes-Maybach, to the sporty Mercedes-AMG. With "Mercedes me" we offer an abundance of connectivity, service, financing and mobility services.
Five strong truck brands (Mercedes-Benz, Freightliner, FUSO, Western Star, BharatBenz) are bundled under the umbrella of Daimler Trucks, offering future-oriented technologies and tailor-made products for diverse areas of use.
Be it the Citan city delivery Van, the mid-size Vito Van or the large Sprinter Van – the commercial vehicles from Mercedes-Benz Vans stand for a high level of reliability, quality and value retention.
With our full-line offers from the Mercedes-Benz, Setra and BharatBenz brands, Daimler Buses covers all requirements in the bus segment. With the OMNIplus and BusStore brands, we additionally have access to a global service network and full coverage service line, including trade with used buses.
Daimler Financial Services offers a comprehensive range of automobile-related financial services as well as innovative mobility services. The product lineup ranges from leasing, financing offers and financial services for dealers to the management of commercial fleets and the brokering of vehicle-related insurance policies, banking services and mobility concepts such as car2go.

Daimler Greater China Ltd.
No.8, Wangjing Street, Chaoyang District,
100012 Beijing, China

Job offers
by this company