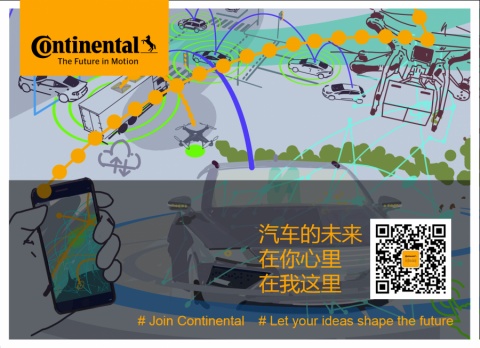 About Continental
Continental develops pioneering technologies and services for sustainable and connected mobility of people and their goods. Founded in 1871, the technology company offers safe, efficient, intelligent and affordable solutions for vehicles, machines, traffic and transport. In 2017, Continental generated sales of €44 billion and currently employs more than 244,000 people in 61 countries and markets.

Since starting its business in China in 1994, Continental serves all major OEMs across all vehicle segments. We also develop and produce materials, functional parts, components, and systems for railway, machinery, mining and other important industries. So far, Continental has expanded its presence in 28 production locations and 17 R&D centers, representing a workforce of over 25,000 in the country. Continental offers market specific solutions to the Chinese market with all of the corporation's five divisions.

关于大陆集团
大陆集团致力于开发创新技术和服务,为人们及其货物提供可持续性的互联驾乘和运输解决方案。科技公司大陆集团成立于1871年,为车辆、机械设备、交通及运输领域提供安全、高效、智能且经济适用的解决方案。2017年大陆集团销售额为 440 亿欧元。目前集团在全球员工数量超过 244,000 名,遍及 61 个国家和地区。
自从1994年正式开始在中国市场运营,大陆集团服务于各个汽车细分市场上主要的汽车生产商。与此同时,我们也开发和生产材料、功能部件、零部件和系统,广泛应用于轨道交通、机械、工程、矿业及其它重要工业行业。目前,大陆集团在中国共设有28 处生产基地、17个研发中心,员工总数超过25,000名,大陆集团五大事业群为中国市场提供定制化的解决方案。
Employees:
China: over 25,000
Global:

over

244,000
Global Sales Volume:
€44 billion
Address:
Continental AG Global Headquarters:
Vahrenwalder Straße 9
D-30165 Hanover
Continental China Headquarters:
538 Dalian Road
Shanghai, 200082
China is the largest market for automobiles in the world. Nowhere else is the demand for individual mobility higher or growing more strongly than here. The booming demand for safe, eco-friendly and comfortable ways of mobility are driving the need for innovative development of products that are tailored to the local markets and the local culture.
Continental commenced its business in China in 1994 with the establishment of the Shanghai Automotive Brake Systems (SABS) Corporation; a significant joint venture with Shanghai Automotive Industry Corporation (SAIC) in Shanghai, China. Over the past twenty years, Continental has been building successful partnerships across China. So far, Continental has expanded its presence in 26 production locations and 17 R&D (research &development) locations, with a workforce of about 25,000 employees in the country. It maintains a strong business relationship with all major customers in China.
As a global leader of the four automotive megatrends - safety, environment, information and affordable cars - Continental plays an active role within China. Continental is committed to the Chinese market and offers market specific solutions by localizing the entire value chain.

Locations in China:
Heihe, Qingdao, Yanzhou, Baoding, Changchun, Beijing, Shenyang, Tianjin, Jinan, Lian Yun Gang, Changzhi, Nanjing, Qufu, Hefei, Wuhu, Yangzhou, Zhangjiagang, Changshu, Shanghai, Hangzhou, Sanmen, Ninghai, Wuhan, Liuzhou, Guangzhou, Yan Cheng, Chongqing, Taipei
Working at Continental is not just a job. It's a journey and an experience.
Every day is a new day.
You are looking for a challenging, creative and dynamic work environment.
We want you to realize your full potential.
> You want your work to be recognized.
> We want you to fulfill your goals.
> You want to follow the best possible career path.
> We want to foster your individual talent in our company.
We are looking for employees who combine personality with skills and qualifications - open-minded people who aim for innovation, enjoy progress and think outside the box.
As a reliable partner, the international automotive supplier, tire manufacturer, and industrial partner Continental offers you:
> a comprehensive human resources development process
> working in professional teams
> challenging multi-national projects
> the freedom to act entrepreneurially while being guided by motivated leaders
The Continental Corporation is divided into the Automotive Group and the Rubber Group, and consists of five divisions:
Chassis & Safety:
The Chassis & Safety division develops and produces integrated active and passive driving safety technologies as well as products that support vehicle dynamics. The product portfolio ranges from electronic and hydraulic brake and chassis control systems to sensors, advanced driver assistance systems, airbag electronics and sensorics as well as electronic air suspension systems all the way to windscreen washer systems and headlight cleaning nozzles. The focus lies on a high level of system competence and the networking of individual components. Thus products and system functions are developed along the SensePlanAct chain of effects. They form the foundation for automated driving. Chassis & Safety employs more than 43,000 people worldwide and generated sales of approximately €9.0 billion in 2016.
Interior:
Information management in and beyond the vehicle is at the very heart of the Interior division. The product portfolio for different types of vehicles includes: instrument clusters, multifunctional and head-up displays, control units, access control and tire-information systems, radios, infotainment systems, input devices, control panels, climate control units, software, cockpits as well as services and solutions for telematics and Intelligent Transportation Systems. The Interior division employs more than 43,000 people worldwide and generated sales of approximately €8.3 billion in 2016.
Powertrain:
The Powertrain division develops and produces efficient system solutions for vehicle powertrains to optimize fuel consumption. The comprehensive range of products includes gasoline and diesel injection systems, engine management and transmission control, including sensors and actuators, exhaust-gas after -treatment technologies, fuel supply systems, and components and systems for hybrid and electric drives. Powertrain employs more than 40,490 people worldwide and, in 2017, recorded sales of about €7.7 billion.

Tire:
The Tire Division currently has 24 production and development locations worldwide. The broad product range and continuous investments in R&D make a major contribution to cost-effective and ecologically efficient mobility. As one of the world's leading tire manufacturers with more than 50,000 employees, the Tire Division achieved sales of €10.7 billion in 2016.
ContiTech:
The ContiTech division is one of the world's leading suppliers of technical elastomer products and is a specialist in plastics technology. It develops and produces functional parts, components, and systems for machine and plant engineering, mining, the automotive industry, and other important industries. ContiTech generated sales of almost €5.46 billion in 2016 and currently employs approximately 42,909 people in 44 countries worldwide.

Continental Corporation
538, Dalian Road, Yangpu District
200082 Shanghai