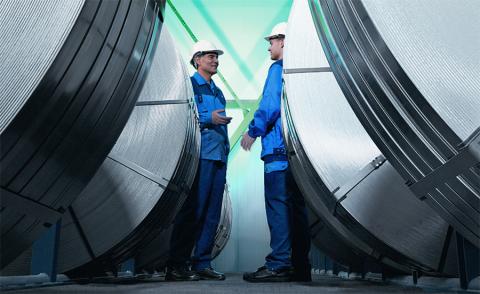 Be successful - international and individual

We are a leading supplier of steel products for complex applications. The top quality products of Waelzholz can be found in motor vehicles, household appliances and airplanes as well as in sports and leisure time products. Together with our customers and suppliers, we develop over 29,000 product variations to optimally meet the specific requirements of the final product.

Internationality

Approximately 780,000 tons of steel are produced at production sites in Europe, North and South America and Asia. In China, we expanded our service center near Shanghai at the beginning of 2014 to become a cold rolling mill. We also have our own cold rolling mill in the rapidly developing region around São Paulo in Brazil.

Success through technical and managerial staff

Committed employees have been the key to Waelzholz´s success for more than 190 years. To continue this success story, the company will rely on qualified technical and managerial staff in the future as well. Waelzholz puts great importance to good, comprehensive training in both the technical and business spheres. With our trainee program or direct entry, you will have excellent career prospects at Waelzholz!

Waelzholz

Employees: 2.300 worldwide
Sales volume: > 1 billion €
International share of sales: 65 %
Asia
Since the middle of 2007 Waelzholz has two subsidiaries in Asia. Waelzholz New Material (Taicang) Co., Ltd. is a wholly owned subsidiary of Waelzholz. Since the beginning of 2014 we provide the Asian market with locally manufactured high-quality steel strip. With the extension of Waelzholz New Material (Taicang) Co. Ltd. to become the first German state-of-the-art cold rolling mill in China we are able supply an annual volume of up to 70.000 metric tons. A powerful four-high rolling stand as well as several high convection batch annealing units, completing the existing slitting and cut-to-length lines, enable us to process raw material provided by local suppliers. Thus we perform the entire value creation locally.
Taicang Waelzholz – Kern-Liebers New Material Co., Ltd. is a joint venture between our longtime customer Hugo Kern and Liebers GmbH & Co. KG and Waelzholz. This subsidiary focuses on the production of texture rolled steel Strip. Both companies are situated in Taicang, an emerging industrial town about 60 km (37 miles) north of Shanghai.
Products
Waelzholz produces cold rolled steel strip. Basically there are seven product groups:
Cold rolled steel strip
Hardened and tempered steel strip
High strength steel strip
surface-coated steel strip
Flat wire products
Profiles/ Shaped wire
Electrical steel strip
Stainless precision steel strip
On this basis our entire range comprises more than 29,000 product variations. We particularly excel at finding and producing individual solutions, which are perfectly suited to meet exceedingly complex requirements - we supply our products to more than 1,000 customers worldwide.
Steel products optimized for application purposes are our speciality. Only very few of our products are standard or basic versions. In close cooperation with customers and suppliers we constantly develop new products with innovative material properties.
For example, on the basis of approx. 150 chemical compositions we produce up to 125 different application types and thus ensure future-oriented solutions for all requirements.

C.D. Wälzholz GmbH & Co. KG
Feldmühlenstraße 55
58093 Hagen