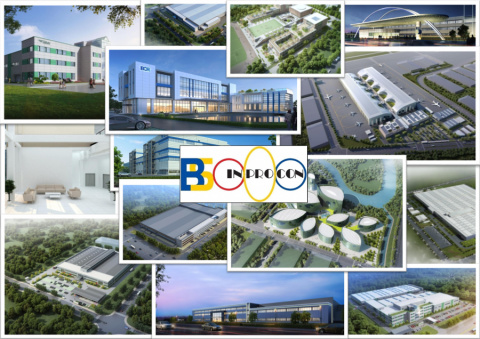 BSInprocon Engineering Consulting (Shanghai) Co., Ltd. is a project management and consulting company for the construction industry in China.
With our employees we provide premium engineering and management services for projects of our international and national clients. Our experience and expertise enables us to provide state of the art project development, design and execution practises. We implement suit-to-need strategies and approaches to create the best benefits for our clients. BSInprocon covers the whole life-cycle of a project and we accompany our clients from the project development, through the project realization to the final acceptance and move-in.
Our client and their projects come from the infrastructure, industrial, commercial, education, healthcare, sport and lifestyle sectors.
In addition we are providing support for Chinese clients and contractors working in Europe and particularly in Germany.
BSInprocon Engineering Consulting (Shanghai) Co., Ltd. is a successful joint-venture between INPROCON GmbH from Munich and BS Engineering Consulting (Shanghai) Co., Ltd. Since its foundation in 2012 BSInprocon has increasing success and is expanding its activities into more industrial sectors and business fields.
Our head office is located in the north of Shanghai in the Yangpu district. In our head office we accommodate our technical, construction, contracts and administration departments. From here we support our project teams that are assigned to the construction projects all over China and partly overseas.
In the construction industry we are offering jobs with the opportunity to grow and develop your career in different ways. The construction industry requires a high flexibility but offers with each project new challenges and experiences. Throughout your employment we can offer the possibilities to work on the construction site as part of our project teams or to be a member of our technical department in Shanghai to support and work for projects in the pre-construction phase.
For BSInprocon it is the second time to join the Chinese Talent Days in Cologne. After our first attendance last year we successfully employed several of the candidates and we are looking forward to welcome more talent to our team.
We are welcoming applications for our job positings or any unsolicited applications.


BSInprocon
Zhongtian Building, No. 1063 Siping Road
200092 Shanghai

Job offers
by this company