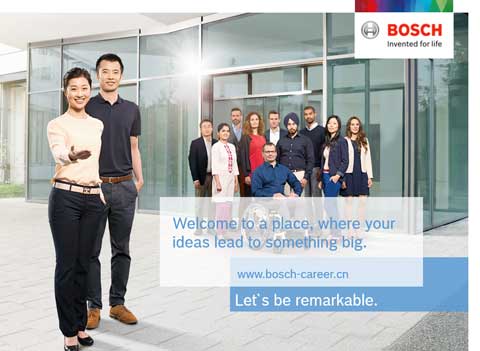 About Power Tools
The Power Tools Division of the Bosch Group is the world market leader for power tools, power tool accessories and measuring tools. In 2015, its roughly 20,000 associates generated sales of 4.5 billion euros, about 85 percent of which outside of Germany.
About Bosch Power Tools (China) Co., Ltd.
Bosch Power Tools (China) Co., Ltd. has been established in 1995 and is located in Hangzhou/China. PTCN is the largest Bosch power tools location worldwide in terms of number of associates and NGU.

Located on a site area of 140,000 square meters are:
Production facilities for power tools for the brands Bosch and Skil.

Production facilities for accessories

.

Country Sales Organization China with the largest Product Training Center for power tools in the Asia Pacific region.
Engineering center for business unit PT Asia Pacific with the certified test lab.
Power Tools Buyout Organization.
Marketing Asia Pacific Accessories, Quality & Engineering Accessories Asia Pacific.
Local supporting functions including supply chain, purchasing and personnel management.

Production of gardening tools.
Bosch China Prelimary Fact & Figures for fiscal 2011

Revenue global:
52.3 billion EUR

Revenue China:
42.3 billion CNY

Staff global:
306,000 Employee

Staff China:
30,200 Employee

Locations global:
more than 150 Locations

Locations China:
58 Locations
• 1 Investment Holding Company (Shanghai)
• 45 Wholly-Foreign-Owned-Enterprises
• 12 Joint Ventures

R&D:
38,500 researchers and developers in R&D
86 locations worldwide
16 patents on average each working day

Best Employer Awards:
CRF 2013 Top Employer
2012 Best Employer Top10
China Talent Management Awards
2012 Most Desirable Employer
2012 Ideal Employer
100 Best HRM Companies of 2012
2012 Best Recruitment and Retention Program

Bosch Patent position across all industries:
World Intellectual Property Organization: 3rd place
PTCN consistently adheres to the strategy of long-term investment and development in China, while localization is an important part of it. Systematical trainings are provided to local employees to improve their functional and management competences. To develop local talents, Bosch globally standardized Associate Development Program, Bosch Trainee Program and three different paths for career development providing leadership, project, and expert. Systematic performance management, promotion and salary adjustment tools are applied to ensure the transparency and make sure that employees can communicate with management and get timely feedbacks.
博世电动工具一贯坚持在中国的长期投资和发展,因此员工本土化是公司在华发展战略的一个重要组成部分。为实现这一承诺,公司为员工提供多层次的系统培训,以提高本土员工在管理、业务等各个方面的技能。在员工发展方面,公司采用博世全球统一的潜力员工发展项目、经理人培养计划等一系列国际化的人才发展工具,为潜力员工提供领导型、项目型、专家型三种不同的职业发展通道。在管理方面,采用系统的绩效管理和晋升加薪制度,流程透明、公平公正,使员工及时得到及时认可和有效反馈,保持与管理层的互动和沟通。
"Made by Bosch" is the mark of excellence of a global player - not just in products and services but also in careers.
Today in China, Bosch has attracted more than 20,200 employees to contribute in Automotive and Industrial Technology, Consumer Goods and Building Technology. It is our people - their dedication, their commitment and their ideas - that drive us forward. Bosch is always treating its employees as the most important asset.
By way of appreciation, we provide our employees with competitive compensation and benefits, plenty career development opportunities, and pleasant working environment in all Bosch local entities.
With the fast development in our business in China, we are looking forward to strengthening our team with your talent. If you agree with our values and have the willingness to grow together with Bosch, please never hesitate to join us!
Bosch provides:
Competitive compensation and sound benefits;
Systematic training programs and development opportunities home and abroad;
Attractive and challenging assignments;
Pleasant working environment and balanced work-life;
Convenient transportation, etc.
Bosch Core Values:
Future and result focus
Responsibility
Initiative and determination
Openness and trust
Fairness
Reliability, credibility and legality
Cultural diversity
For more information, please visit www.bosch-career.cn.
博世商业和工业用专业工具
我们为商业和工业专业人员生产了具有最佳工艺、顶级性能和顶级质量,从而可确保高效工作的电动工具。
博世开发的创新型优质电动工具可确保您在所有商业活动中都获得专业的结果。我们的工具不仅可靠、强劲,而且坚固耐用,在满足您最高需求的同时也使工作变的更加简单。我们的智能锂电工具可使您在工作时摆脱电源线 – 在提供强劲功率的同时实现最大活动自由。
博世附件
无论您的任务是什么 — 博世原装附件都值得信赖。在我们的附件目录中,可保证找到适合您博世工具的附件。
更多产品请参考:
http://www.bosch-pt.com.cn/cn/zh/bosch-power-tools/product-worlds/product-worlds.html
Bosch Power Tools (China) Co., Ltd.
567 Bin Kang Road, Bin Jiang District
310052 Hangzhou, Zhejiang