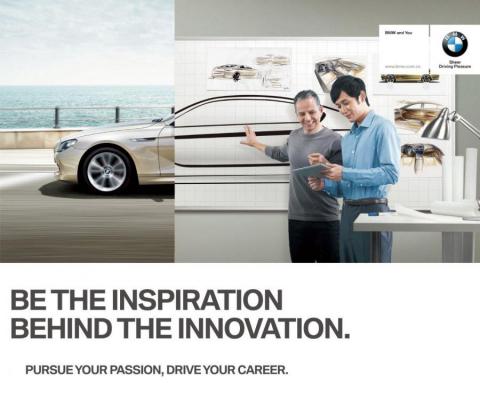 BMW Group
You can't predict the future, but you can create it.

We don't just build cars. We create emotion, enthusiasm and fascination. We pursue our premium strategy with our three brands BMW, MINI and Rolls-Royce Motor Cars, making us one of the world's leading manufacturers of automobiles and motorcycles. Our premium offer includes providing new mobility solutions and services needed in response to continual societal shifts thereby generating added value for the company, the environment and for the society we live in.

About the BMW Group
As a driving force in the automotive sector, we shape the future and stand for excellence in the development, production and marketing of automobiles and motorcycles. This is our core business, effectively supplemented by comprehensive financial services for private and business customers. Our primary motivation is to get as much driving fun as possible out of every litre of fuel. To this end, BMW researchers and developers focus on innovative technologies to optimise consumption and reduce emissions, and above all, the continuous optimisation of BMW Efficient Dynamics. This package of measures is based on a combination of efficient engines, lightweight construction, aerodynamics, and intelligent energy management. With Efficient Dynamics, BMW is pursuing its long-term aim of combining efficiency with driving pleasure. The BMW Group's strategy aims to anchor sustainability throughout our entire value creation chain and the processes on which it is based.

Our sub-brand BMW i additionally focuses on visionary vehicle concepts. With the electro-driven BMW i Concept models, engineers will bring the first successful carbon-body vehicles to series production. In addition, alternative drives for hybrid and electro-vehicles based on series models are also a focus of our work. Cutting-edge driver assistance systems as well as vehicle security technologies are other important development priorities.

Working at the BMW Group

Everything starts with passion at the BMW Group. It turns a profession into a vocation. It drives us to keep reinventing mobility and bringing innovative ideas onto the roads. Enthusiasm for joint projects turns a team into a strong unit where every opinion is valued. It is only when expertise, highly professional processes and enjoyment of work are united that we can shape the future together.

Our success as a premium manufacturer is due to the exceptional motivation and performance of our 105,876 employees in over 150 countries. Their enthusiasm and expertise come to life in every one of our cars and can be felt at all our locations. Each individual is able to make an impact in his/her job - living out passion and move forward in their personal development. Diversity is a fundamental part of the BMW Group's sustainability strategy and we place huge value on developing a cross-cultural workforce, an appropriate gender balance and a good mix of ages.

Career Opportunities for Chinese Talents

Imagine freedom for your ideas and professional challenges to stimulate your motivation and your ambition. At BMW you can boost your professional chances with new and challenging projects every day. We provide substantial learning and development opportunities for all our employees. Since China is BMW's fastest growing market, eager employees can progress quicker along their chosen career path.

BMW Group
Petuelring 130
80788 München