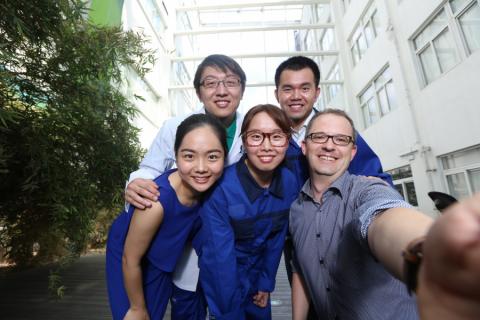 About BASF
At BASF, we create chemistry for a sustainable future. We combine economic success with environmental protection and social responsibility. More than 110,000 employees in the BASF Group contribute to the success of our customers in nearly all sectors and almost every country in the world. Our portfolio is organized into six segments: Chemicals, Materials, Industrial Solutions, Surface Technologies, Nutrition & Care and Agricultural Solutions. BASF generated sales of €59 billion in 2020. BASF shares are traded on the stock exchange in Frankfurt (BAS) and as American Depositary Receipts (BASFY) in the U.S. Further information at www.basf.com

About BASF Greater China
BASF has been a committed partner to Greater China since 1885. With large production sites in Shanghai, Nanjing and Chongqing, as well as a global and regional research and development hub in Shanghai, BASF is a major foreign investor in the country's chemical industry. BASF posted sales of approximately €8.5 billion in 2020 to customers in Greater China and employed 8,948 people as of the end of the year. For further information, please visit www.basf.com/cn/en
Branch
Chemical Industry


Sites
• BASF SE (Headquater): Ludwigshafen, Germany
• BASF Greater China (Headquater): Shanghai, China
• BASF-Group: worldwide

Employees
• Greater China: 8,958 (2020)
• Asia Pacific: 17,753 (2020)
• Worldwide: 110,307 (2020)

Sales volume
• Greater China: over € 8.5 billion (2020)
• Asia Pacific: € 14.9 million (2020)
• Worldwide: € 59.1 billion (2020)
• EBIT BASF-Group: € 3.6 million (2020)

Address
BASF Greater China Headquarter
300 Jiangxinsha Road, Pudong
Shanghai 200137

BASF SE
67056 Ludwigshafen


Corporate site
www.basf.com
Greater China: www.basf.com/cn/en


Contact
BASF Services Europe GmbH
Recruiting Services Europe
P.O.Box 110248
10832 Berlin, Germany
Phone: 00800-33 0000 33
jobs@basf.com
Career site: www.basf.com/my-career
BASF currently operates 28 major wholly-owned subsidiaries, 7 major joint ventures, and maintains 24 sales offices in Greater China. BASF's business in Greater China includes petrochemicals, intermediates, performance materials, monomers, dispersions & pigments, performance chemicals, catalysts, coatings, care chemicals, nutrition and health and agricultural solutions.
These solutions are used in almost all areas of daily life such as in houses, cars, food, agriculture, pharmaceuticals, textile, household goods, electronic equipment and packaging. Over the past 20 years, BASF has invested more than €6 billion in Greater China (more than €9 billion with partners) to build a locally competitive production, marketing, sales, technical service and innovation network.
Our employees are key to our success: their skills, commitment and motivation make BASF competitive and fit for the future. For this reason, we want to recruit, support and retain the best employees. In Asia Pacific, BASF offers the wide range of career opportunities that you might expect from a global leader in the Chemical industry. We employ both fresh graduates and skilled professionals in our Research & Development, Engineering and Production as well as in our Business and Corporate Functions.
We look for passionate and creative individuals from all backgrounds and nationalities, who share our goal to drive the company forward in the region.
BASF is committed to providing the intelligent and leading-edge solutions demanded by our customers. Our aim is to continue to improve our service, and we need to bring the right people in to help us achieve that goal, at all levels of experience and expertise. So, whether you are a recent graduate or a qualified specialist with many years' experience, we look forward to welcoming you to the BASF family.
The most efficient application process is via our online job portal through our Careers page.
Across all industries, customers expect solutions that help improve quality, increase comfort and reduce energy consumption.
As an innovative partner we offer considerably more than just high-value products: We support our customers in facing a multitude of challenges and offer them tailor-made solutions. Find out more about how we succeed in creating value for our customers: https://www.basf.com/cn/en/products.html
We are organized along these 6 segments:
• Chemicals
• Materials
• Industrial Solutions
• Surface Technologies
• Nutrition & Care
• Agricultural Solutions

BASF
Rotherstr. 11
10245 Berlin